How to Make Our Breakfast Biscotti from Home!
Looking to make our Breakfast Biscotti your own? Good news! This delicious dish is simple, quick, and perfect for those who are new or old friends to the ways of a kitchen. Follow along as we list out how to make our sought after Breakfast Biscotti.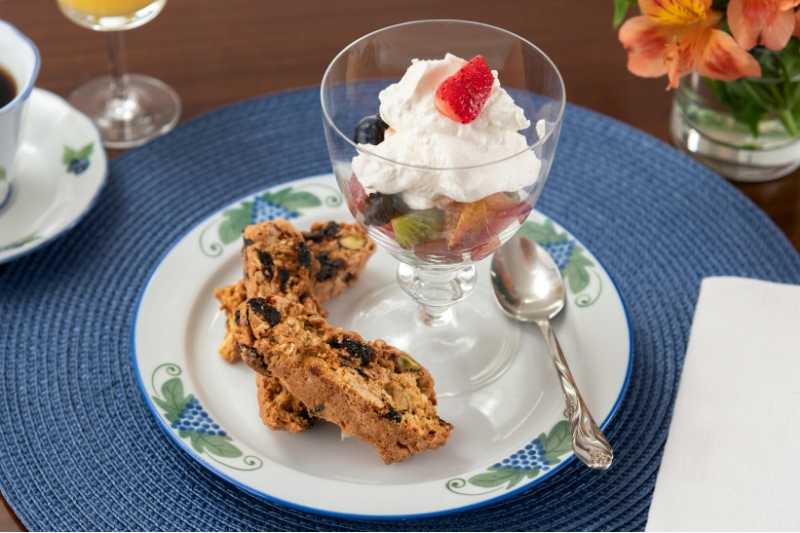 You Will Need:
1 1/3 cups (131g) rolled oats (or mixture of oats and granola)
1 teaspoon baking powder
1/4 teaspoon baking soda
1/2 teaspoon salt
6 tablespoons (85g) unsalted butter, melted
1/4 cup (50g) granulated sugar
1/4 cup (53g) brown sugar
2 large eggs
1/2 teaspoon vanilla extract
1/2 cup (43g) sliced almonds (or mixture of nuts)
1/2 cup (57g) shredded unsweetened coconut
1 cup (113g) dried fruit (I like cherries and apricots)
1 large egg white
Steps:
Preheat the oven to 325°F. Have parchment paper and a baking sheet on hand.
In a small bowl, whisk together the flour, oats, baking powder, baking soda, and salt. In a separate large bowl, whisk together the melted butter and sugars. Whisk in the eggs and vanilla. Stir in the dry ingredients, almonds, coconut, and fruit to make a stiff batter.
Using floured hands, roll half of the dough into a 12" log and place on the parchment paper. Repeat with the second half of the dough, then slide the parchment, dough and all, onto the baking sheet. Beat the egg white until foamy, then brush it over the logs.
Bake for 20 minutes, until lightly golden brown and beginning to form cracks.
Remove from the oven and let cool for 30 minutes to an hour, until almost completely cool (it's okay if the centers are still lukewarm). Cut the logs into 1/2" slices on the bias with a serrated knife. To minimize crumbling, draw the knife through the logs, trying not to press down.
Return the slices to the baking sheet, on their side, and return to the 325°F oven for another 20 minutes, until toasted and crisp. Turn slices halfway through.
Remove from the oven and let cool completely before storing in an airtight container.
Voilà! Your Breakfast Biscotti is ready. Impress your friends and family even more, serve biscotti with breakfast parfaits or yogurt and fruit. Or simply with coffee and tea. Either way, everyone is bound to enjoy!