With a lot of good places to eat in Kennebunkport and the surrounding area, we are narrowing down the top choices, ridding the burden of figuring out, "where is there to go to eat?"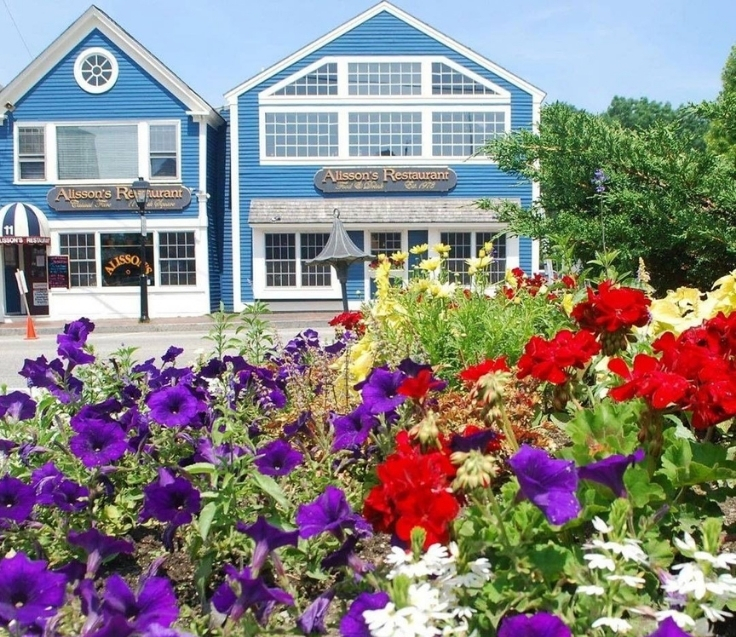 Alison's Restaurant
5-minute drive from Waldo Emerson Inn
Casual. Comfort. Classic. Alison's in Kennebunkport's Dock Square is a restaurant and pub that has been providing casual excellence for over 40 years. Locally owned and operated since its inception in 1973, Alison's is a go-to gathering place with a menu selection that includes, Maine Lobster Bisque, New England Clam Chowder, Fried Clam Pints, Lobster Bisque Poutine, and an extensive list of varying Lobster Rolls including a South of the Border Lobster Roll with Avocado, Cracked Pepper Bacon, and Chipotle Mayo. Not to mention over 20 craft beers on tap.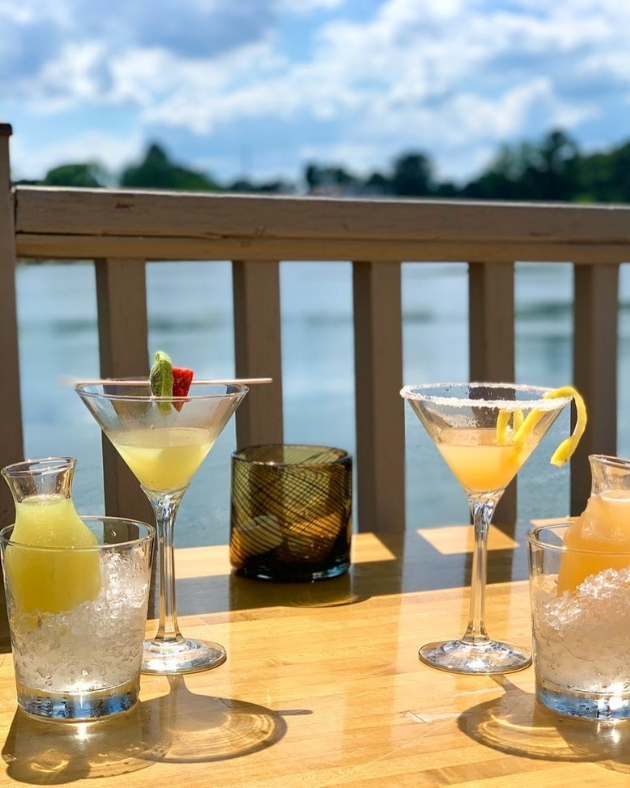 Hurricane Restaurant
5-minute drive from Waldo Emerson Inn
And continuing right along in Dock Square just a few doors down from Alison's is Hurricane Restaurant, a locally-owned fish and chop house located along the Kennebunk River. Open 7 days a week, Hurricane offers a fine-dining menu with an array of fresh seafood, steak, and vegetarian options. They are also well known for their live music, Sunday Brunch, Tuesday Public Suppers, as well as their generous Happy Hour every Monday through Thursday from 4 pm-6 pm with $5 Draft Craft Maine Beers, $5 Red and White Wine Pour, and their $5 Cocktail of the Day! And if you have come to Maine to gracefully slurp down one-of-a-kind oysters, on Sundays they run Buck-A-Shuck, where you can grab oysters for only $1.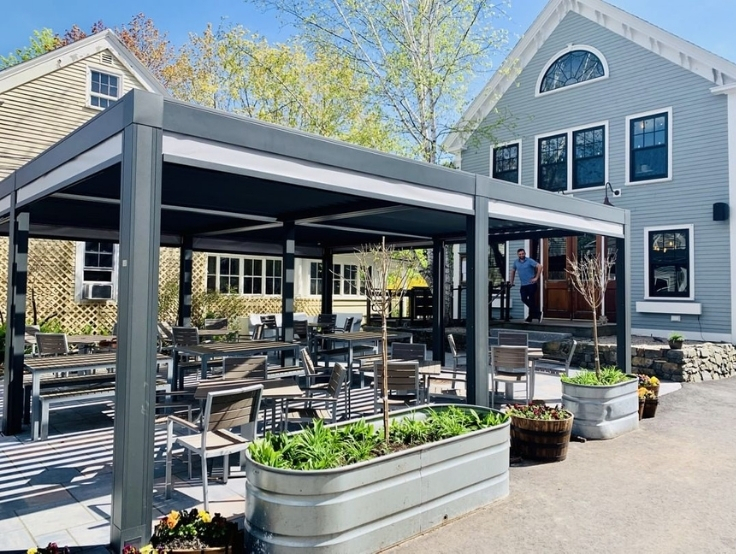 Old Vines Wine Bar
4-minute drive from Waldo Emerson Inn
Small plates with big flavors! Old Vines Wine Bar is located in the center of Kennebunk's Lower Village in a 19th-century barn featuring a shaded outdoor patio for al fresco dining. Visitors can expect fine wine, craft cocktails, local craft beer, and a fresh take on Maine cuisine! Open late night, Old Vines Wine Bar loves a good party and offers live music throughout the seasons! One of the best outdoor dining spots in the Kennebunks.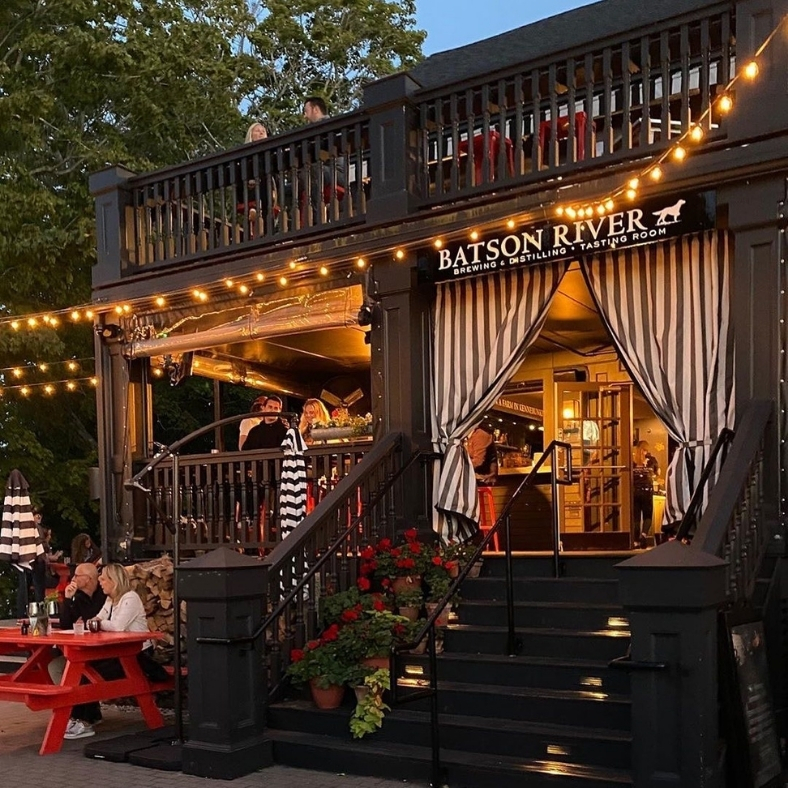 Batson River Brewing & Distilling
5-minute drive from Waldo Emerson Inn
Just steps away from the bustle of Dock Square, Batson River is a local Maine brewing and distilling company that offers samples, a seasonally updated selection of signature cocktails, and a lineup of craft beers in pints and flights of four. For when hunger strikes after exploring and shopping all day downtown, they also offer tempting selections of appetizers and light bites for snacking and sharing. If that wasn't enough to grab your interest, they offer Happy Hour every Wednesday- Friday. Compatible with our pet-friendly inn, Batson River's outdoor patio is also dog-friendly!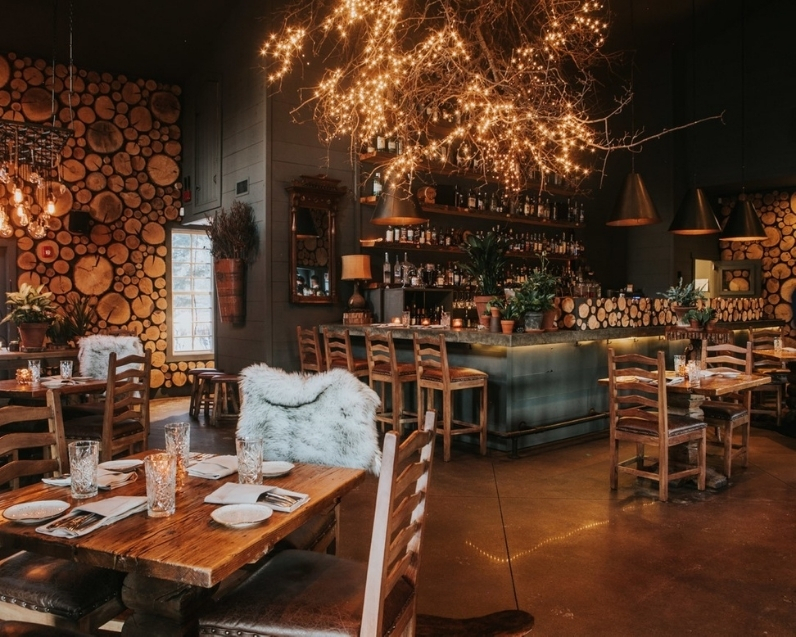 Earth at Hidden Pond
And if it is a romantic evening you seek then head to Earth at Hidden Pond! Promising simple yet innovative "farm to fork" freshness, herb-infused spirits, and muddled fruits, and a natural decor (think outside coming in!) featuring the dramatic flicker of candlelight and a beautifully preserved apple tree suspended high above, Earth is an unforgettable dining experience that will leave you yearning for more. In addition to local meats and seafood, ingredients are used from one of two onsite organic gardens- picked daily and incorporated into each dish. Reservations required!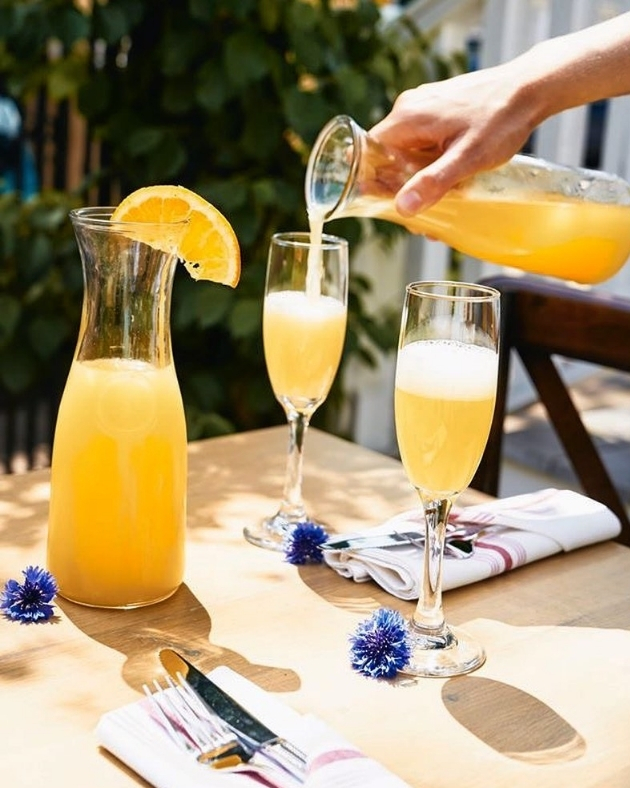 Chez Rosa
6-minute drive from Waldo Emerson Inn
Proudly independent and family-owned, Chez Rosa is a traditional French Bistro open for dinner Wednesday through Sunday and located in downtown Kennebunkport. A little taste of France brought to Maine, owners and operators have years of experience in the hospitality world, including their time as general manager and chef de cuisine at Five Fifty-Five in Portland. Aesthetically pleasing and tastefully prepared, the menu includes starters and dishes such as Fromage et charcuterie, Cod Wellington, Chicken Blanquette, and Parisienne Gnocchi.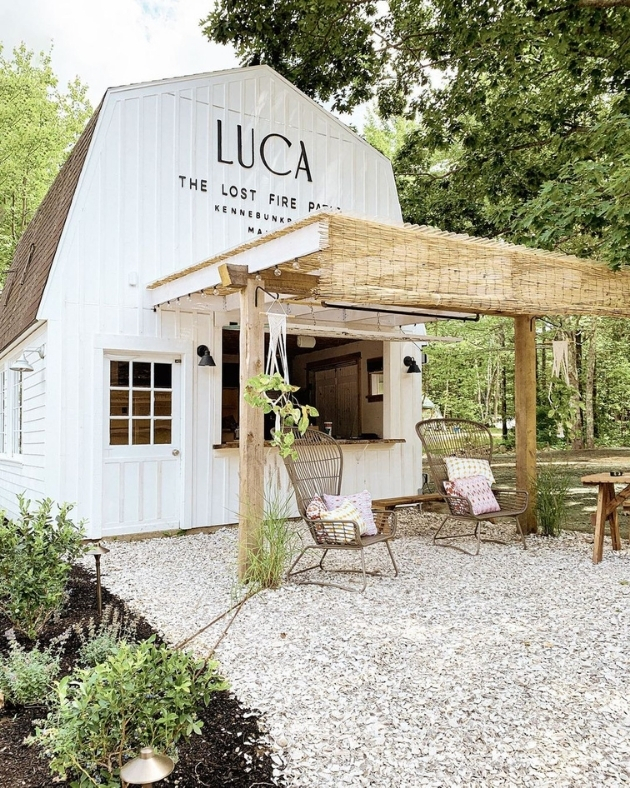 The Lost Fire
10-minute drive from Waldo Emerson Inn
Promising a completely new culinary experience, Lost Fire is a Patagonian grill and bar open year-round Wednesday- Sunday that features a smoky, hearty barbecue and authentic Argentinian steakhouse cuisine. As the namesake may suggest, The Lost Fire cooks meals over a true wood fire grill. Seating is offered both indoors in their cozy, dark wood-paneled barn, as well as, outdoor on their recently built bright and airy patio perfect for a summer adventure.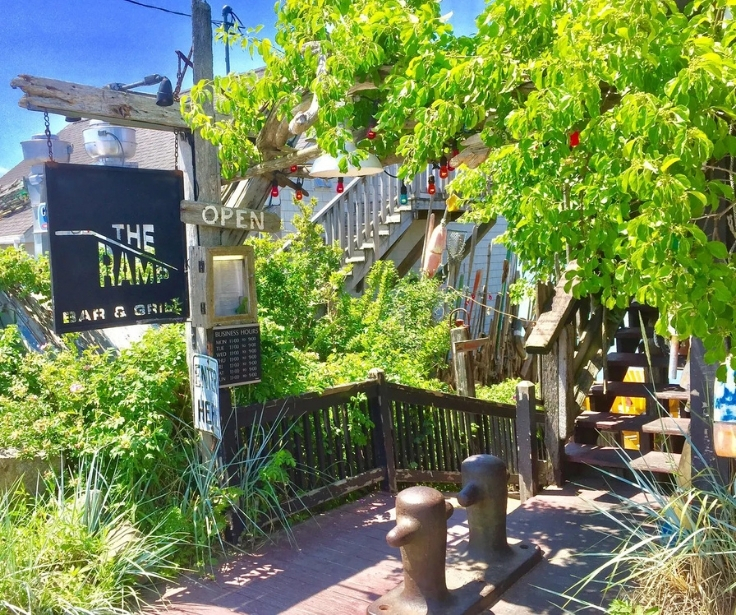 Pier 77 / The Ramp Bar & Grill
11-minute drive from Waldo Emerson Inn
Bringing you away from the commotion of Dock Square, Pier 77 takes traditional American and seafood cuisine and gives it creativity using the best ingredients. With stunning waterfront views of Cape Porpoise Harbor, you are likely to spend your lunch watching lobstermen and lobsterwomen motor in and row to the dock in their dinghies (how Maine!), while for dinner you will surely be spoiled with the bright hues of magenta, pink and purple of a Maine sunset. Hoping for a casual yet lively outing? Head to their upstairs pub, The Ramp, which is a staple among these parts.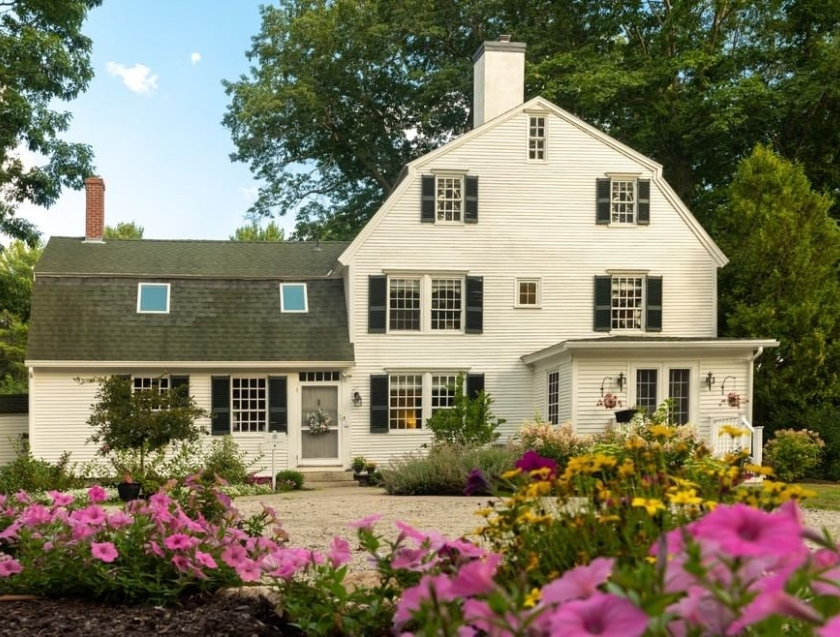 Waldo Emerson Inn
But to have a really great meal in Kennebunkport you don't have to go far! In fact, you don't even have to leave the inn!
In our excitement for summer, we are offering TWO themed curated dinner events taking place during May and June. Thoughtfully prepared & presented together by Chef Jackson Yordon and Innkeeper/Owner Hana Pevny (who has a culinary degree from Leiths School of Food and Wine in London) in the Waldo Emerson Inn kitchen, join us for either of the following dinners:
May 15, 2021 – Summer is Coming
June 19, 2021 – The Migration: Birds Bees and Butterflies. Tweet and Eat! In conjunction with The Brick Store Museum's early summer special event – each course will feature edible flowers.
Receive a discounted room rate when you book a room with dinner!
For more information or to book call (207) 985-4250 or email innkeeper@waldoemerson.com