Mainely Quilts, a Maine Quilt Shop and Fabric Art Gallery is located in beautiful Kennebunk Maine is truly a Fabric Arts Gallery. A Quilters and Quilt Collectors heaven. Heirloom quality quilts with the famous Amish origin and craftsmanship, new and antique, quilting supplies and fabrics, special gifts for your dear friends or loved ones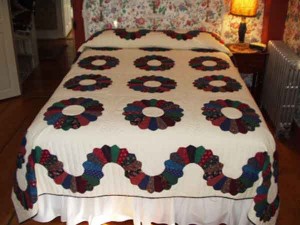 with local "Maine Made" novelties. All of our quilts are hand-quilted, with a minimum of 10 stitches per inch!
Most of our quilts are made by an Amish mother and her daughters in East Earl, PA. The quilts and wall hangers represent the exquisite designs and patterns with true Amish quality.
For the Quilters – Fabrics and Notions
Special Notice: We just received our first shipment of Lupin fabric from Jolene Originals
Call us for Quilters group rates at the Inn, Quilting retreats, seminars and specials. We have everything you need for quilting.
During your visit to the Kennebunkport, Maine area may we suggest that you drop by the Mainely Quilts and Gift Shop located in the carriage house next to The Waldo Emerson Inn bed and Breakfast. You'll likely find the latest local creations. Heirloom quality quilts and wall hangings, often taking hundreds of hours to create, grace homes all over the world.
Mainely Quilts quilt shop located in Kennebunk Maine. A Maine Quilt Shop
While visiting Maine, be sure to stop by Mainely Quilts at the Waldo Emerson Inn, a wonderful Maine quilt shop.